We congratulate you on your upcoming nuptials and can't wait to help with your amazing wedding look. It goes without saying that makeup and hairstyle are essential because you have to look and feel 100% perfect. We will share our wedding makeup ideas with you and together we will decide on a gorgeous bridal look!
All Nuances of Your Western Wedding Are Foreseen
A wedding is a celebration based on traditions, customs and symbols. The reception is exceptionally stylish and chic, including the bride's accessories, the flowers and the wedding cake. Guests will be thrilled with an event that encompasses the best of American wedding celebrations: beautiful decorations, enchanting music and a sophisticated atmosphere.
The Venue.
As a rule, outdoor ceremonies are most popular in summer. For such occasions, our mobile team is always ready to follow you throughout Canada, the U.S. and even abroad. Please, check our service page for more information.
Pre-wedding ceremony.
An engagement event takes place six to twelve months before the wedding. This is a great  opportunity to use our trial package. This way you're sure to be happy with your look on your big day. We'll make sure to meet all of your requirements beforehand and avoid any misunderstandings on the wedding day. Wedding guest makeup is also available.
A dress.
At modern weddings, it is not surprising to see a bride in a red or blue dress. However, white is still the most popular color for most Canadian, American and European women.
Hairstyle.
When choosing a hairstyle for the bride the possibilities are endless: a girl can have an elegant Greek hairstyle, an up-do or light beautiful curls. Do not hesitate to check out our gallery of wedding hairstyles for long hair.
No stress!
Let yourself be cared for by our experienced and gentle artists so that you can relax and enjoy your wedding look preparation time.
Do not forget the details.
By tradition, a bride should wear something old, something new, something borrowed and something blue. Our team is well aware of all styling nuances and will help you at every stage to create your special bridal look!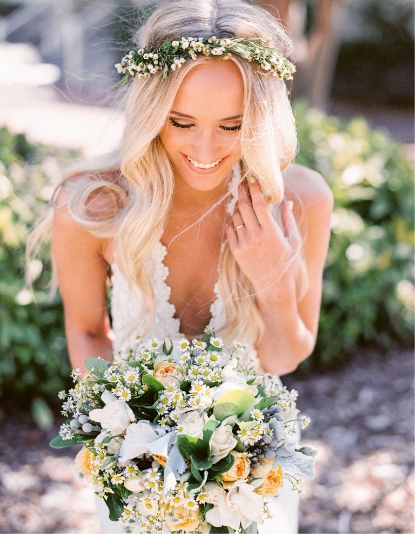 VIEW GALLERY
Art of Beauty Know-How
A more natural look for Western-style brides is quite popular. You will bewitch with your elegant, natural style. Our artists make your look seem effortless, which we all know is not the case! To emphasize natural beauty is more difficult than to design heavy evening makeup. Stay-true makeup became the main trend last year and will continue to be popular. An ideal image is timeless, and for each bride, it is one-of-a-kind. Art of Beauty artists have an extensive knowledge of bridal hair and makeup for European and North American weddings that are characterized by light, natural design which complements any white dress.
Art of Beauty Know-How
Despite the apparent simplicity, pastel/nude makeup is one of the most difficult to apply. A wedding makeup artist needs to seamlessly emphasize all merits of a bride's face. Successful wedding hair and makeup for a Western wedding creates that unique one-in-a-million look.